The time for a roof replacement varies depending on the material, style, or covering you choose for your home or business. Generally, the lifespan of traditional asphalt is anywhere between 15-30 years while slate lasts up to 200 years. A roof replacement isn't an expense you think of very often, but it's one you definitely shouldn't put off when the time comes. If left unattended, leaks from roof damage will infiltrate other parts of your home and lead to expensive issues such as mold growth, wood rot, and structural damage. When it's time for a full-scale roof replacement, it's time to call Elite Roofing & Restoration Services.
We offer roofing replacement and restoration for both commercial and residential properties. Although we're quite familiar with the traditional asphalt shingle, we work with a plethora of roofing materials for a number of homes and businesses, which include tile, stone-coated steel, slate, and metal among much more. Our experts work with you throughout the entire process to ensure you receive optimal results and gain complete satisfaction—from inspection to complete installation.
Tile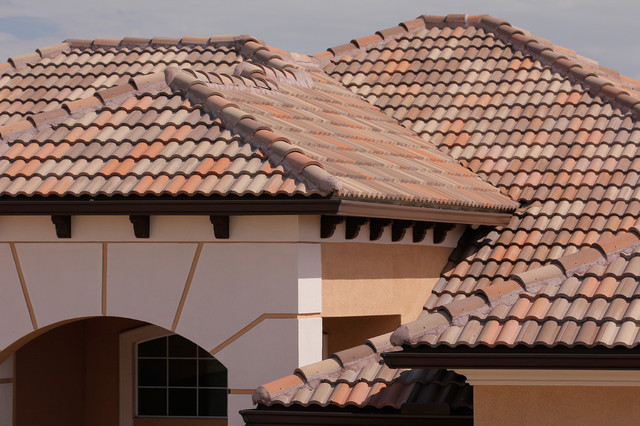 There are a few telltale signs that it's time to replace your tile roof. If there are cracks, missing tiles, or an underlying foundational issue, a full roof replacement is beneficial. For instance, if a substantial amount of tiles are broken, it's much more cost-effective and affordable to simply replace the roof rather than repair every issue. Another common sign of needing a full roof replacement is the quality of the underlayment system; tile roofs are not waterproof, which is why the underlayment system exists. However, with time this watertight layer begins to lose function and becomes susceptible to water damage. If you aren't sure whether or not your tile roof needs a replacement, give us a call—we'll take a look at it free of charge.
Slate
While slate roofs can last anywhere between 100-200 years, when it's their time, it's their time—especially for older houses or historical sites. After about 20-30% of the slate is damaged, it's time to replace the roof. Compared to most roofing materials, slate is higher-priced; however, slate roofs increase the value of your home or establishment. Unlike most roofs, you cannot walk on slate. That's why an Elite Roofing & Restoration professional experienced with slate roofs will examine your roof and determine if you need a replacement. Slate may last a long time, but poor workmanship or limited knowledge is detrimental to its longevity. That's why it's important to choose a professional with specialized care for slate materials, and not a crew mainly accustomed to asphalt.
While all slate is made of stone (for the most part), there are varying degrees of composition, shapes, and sizes. There are two broad categories of slate roofing:
Hard Slate

: also referred to as S1. These last longer than soft slate, at up to 200 years. They come in a variety of colors.

Soft Slate

: also referred to as S2 or S3. These have a slightly shorter lifespan than hard slate, at up to 125 years. Unlike hard slate, soft slate doesn't come in a variety of colors—it's usually black.
Stone-Coated Steel
One major benefit to a stone-coated steel roof is being able to mimic the appearance of traditional shingle with the benefit of steel's longevity. The steel itself is coated with a rust-proof layer before being finished with a thick layer of stone that permanently sticks to the surface. The result is a long-lasting steel roof with the aesthetic appearance of decorative stone—truly breathtaking! Unlike asphalt shingles, stone-coated steel lasts up to 70 years and is a great investment in your home. Another added benefit to stone-coated steel is the low-maintenance upkeep; in fact, stone-coated steel roofs virtually don't need maintenance at all!
Metal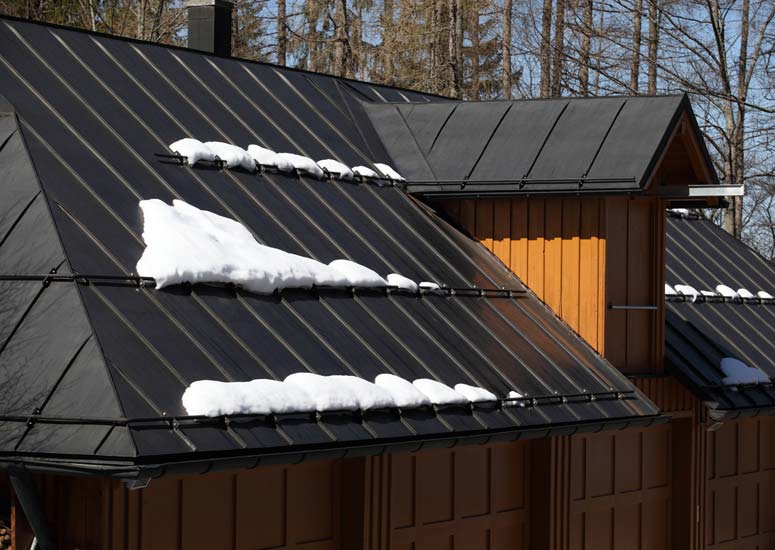 Among almost all other roofs, metal roofs last the longest. They're maintenance-free, water-proof, virtually weather-proof, and almost time-proof. When an old existing metal roof starts to deteriorate, however, it's much more affordable to replace it rather than repair it. With certain metal roofs, simply adding a new layer on top of what already exists is the viable option; other metal roofs require a full replacement. When replacing your metal roof, it's extremely important to hire a company experienced with metal. An improper installation may end up shortening the life span of your metal roof, a major financial waste. Elite Roofing & Restoration specializes in metal roofs and can examine yours free of charge; or give us a call for a free quote.
Copper
Unlike a steel roof, copper doesn't rust or become corroded with time. It's so durable, in fact, that it doesn't ever need additional coating or re-painting for as long as it exists. It's unique in many ways:
Fire-resistant

Lightweight

Almost entirely made of recycled materials
Elite Roofing & Restoration has vast experience with copper roofs and will give you a free estimate for your home. What's great about this metal is the instant increase in value it provides for your home; if you ever choose to sell your home, the prospective owners won't ever have to worry about a roof replacement or maintenance.
Fast Response and Timely Service
Our crew is on time, every time. Unlike most roofing companies who are simply eager to get your business (and less eager when it comes to doing the work), the professionals making up Elite Roofing & Restoration surround their careers around innovative restoration and technological advancements. With us, you're not simply working with a roofing crew—you're working with a diverse group of professionals with extensive backgrounds in varying fields of home restoration, each with particular skill sets and experience. Our experts are assigned according to the project, respond quickly, ensure you're completely on board, and show up ready to work every day until the project is complete.
Accurate Up-Front Quotes
Perhaps one of the biggest factors contributing to the common mistrust of typical roofing companies is the lack of financial stability. They'll usually quote one estimate but charge another, or come up with a list of added fees. At Elite Roofing & Restoration, we have long-lasting relationships with our clients for good reason (other than excellent workmanship): we provide honest, accurate quotes. One of the things our customers really value about our services is the fact that our final prices are in line with our initial estimates—every time.
Considerate Labor
Want to really heckle your neighbor? Hire a basic roofing company—they'll get loudly to work either too early, or just as you're getting home from work. We've been around long enough to know when the best hours for working are, and when it's time to clear up. Elite Roofing & Restoration personally works with you to create a schedule both beneficial and mutual for you, your neighbors, and any lawns or gardens.
The professionals at Elite Roofing & Restoration handle their equipment and technology with expertise, and they never leave a mess behind. In addition to affecting the aesthetic appeal of your home, having equipment laying around is a dangerous safety hazard you won't have to worry about with us. We don't only clean up after the project's complete, but after each working day—so you can relax after a hard day's work without any interruptions.
Unequaled Expertise in Roof Replacement
At Elite Roofing & Restoration, we believe in taking time to meet each of our customers' individual needs with excellence. When you trust us to work on your most valuable possession—your home—we make sure to do it right, with care, and professionalism. Above all, our customers choose us because we have the right background, experience, expertise, and skills—and it shows.
If you're ready for a roof replacement on your home or property, contact us today. We'll help you through every step of the process, provide you with an estimate, and spare you the headache of dealing with insurance claims. For more information on our brochure of roofing types and materials, contact an Elite Roofing & Restoration representative today—let's get to work.